This post is also available in: 日本語 (Japanese)
Be a Cyber Hero and Get the Skills You Need for a Hot Career
If you're looking for a job or a career change, you might be curious about the red-hot demand for cybersecurity technology professionals. Cybersecurity careers are smoking hot!
Current Cybersecurity Career Opportunities
According to Cybercrime Magazine the number of cybersecurity jobs grew from one million positions in 2013 to 3.5 million in 2021, and the numbers are expected to stay steady until at least 2025 if not longer.
In a recent search (May 2022), Glassdoor listed over 20,000 job openings using the term "cybersecurity." Indeed published over 51,000 cyber-related job openings. LinkedIn listed over 110,000 jobs on their site.
If you're Interested in jobs by location, Cyberseek provides an interactive heat map of cybersecurity openings by state in the U.S.
Clearly, cybersecurity is a hot job market, and with ongoing cyber attacks, these positions have long-range job security.
In addition to the stratospheric number of job openings, cybersecurity is one of the best-paying technology segments for someone without a degree. In a recent article, the New England Institute of Technology (NEIT) states, "… cyber security salaries typically range from $85,000 to $130,000 per year, depending on the level of your experience, expertise, employer, and location. A starting salary for entry-level positions such as information security analyst, malware analyst, or cybersecurity consultant starts at $51,000."
Getting Started
You might be wondering where you can get access to high-quality, free entry-level training and industry recognized certifications to help enter the cybersecurity career field. Look no further than Palo Alto Networks, the leader in cybersecurity. Take advantage of our free, online learning path that prepares you for one of the industries' most recognized cybersecurity certifications – Palo Alto Networks Certified Cybersecurity Entry-level Technician (PCCET). The path includes training, a blueprint and sample tests based on these courses:
Fundamentals of Cybersecurity
Fundamentals of Network Security
Fundamentals of Cloud Security
Fundamentals of Security Operation Center (SOC) Security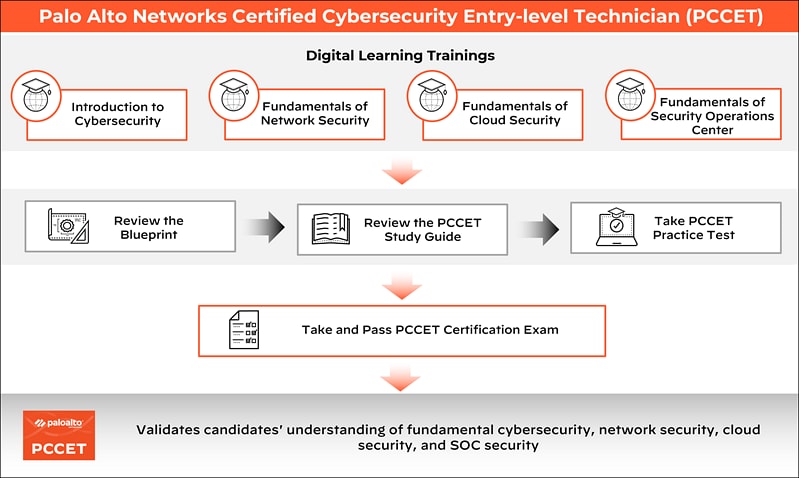 The certification is a great place to start if you don't have experience or the background.
Because demand is high and the available skilled labor force is low, there are really good opportunities for you to get into this exciting field. If you love a challenge, aren't afraid of change, and have a strong desire to learn, employers want you. CNBC reported on the opportunities for new skills: "Give me someone who has the right attitude, behavior, and communication skills who knows how to learn and wants to learn," said Gerald Chertavian, founder and CEO of workforce development organization, Year Up.
Learn more about Palo Alto Networks Certifications and the exciting cybersecurity careers awaiting you.